by Thomas B. Hudson, Emily Marlow Beck
and the Lawyers of Hudson Cook, LLP
Tom Hudson and Emily Beck continue the legal fun you've come to expect if you've read CARLAW and CARLAW II - Street Legal. Like those earlier efforts, CARLAW III - Reloaded, is an education in dealership sales and credit compliance that will entertain and inform dealers and laymen alike with engaging stories drawn from actual cases.
CARLAW III - Reloaded features mostly Tom's and Emily's articles, along with a few particularly good ones from the other talented Hudson Cook, LLP lawyers. The result is another "ripped-from-the-headlines" collection of real dealers, real consumers and real lawsuits that illustrate the morass of legislation and regulation in which dealers have to operate. Tom, Emily and friends bring a treasure of real-world legal experience and a good sense of storytelling to the task of turning the misadventures of dealers who have been dragged into the legal system into compliance lessons that are about as current as current can get.
Tom Hudson is the author of numerous articles on auto dealer practices and finance, published in the World of Special Finance, Auto Dealer Monthly, F&I Magazine, and eDealerNews.com, among others. From coast to coast, he is a sought-after speaker on topics of legal interest to organizations like The American Financial Services Association, The National Automotive Finance Association, The Consumer Bankers Association, The American Bar Association, The National Automobile Dealers Association, state auto dealer associations, and dealers.
Emily Beck has been a frequent speaker at dealer twenty groups nationwide, and has spoken on legal compliance topics for organizations such as the National Automobile Dealers Association, The National Alliance of Buy Here, Pay Here Dealers, The National Automotive Finance Association, The National Association of Dealer Counsel, Leedom and Associates, and others. She has authored articles in a variety of industry publications, such as the World of Special Finance, Dealer Business Journal, Special Finance Insider, Dealer Marketing Magazines, a number of state dealer association publications, and many more.
If you've read all of their earlier books and articles and need another "Tom and Emily fix," CARLAW III - Reloaded is the answer.
And, oh yeah, watch out for unintended acceleration - of your interest in the legal side of the car business.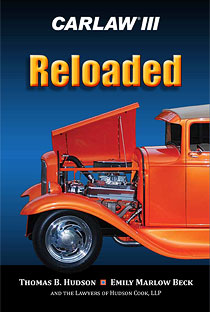 ISBN: 978-0-9779501-4-0
2010 • Hardcover
552 Pages
"Written in an understandable, folksy style, free to the max of legalese and lawyer pedantics, the authors disguise their vast knowledge of this field in a vehicle that simply conveys what the reader needs to know in a pedal-to-the-metal fashion directly into the reader's brain. Do not be fooled by the style, however. CARLAW III Reloaded is a state-of-the-art, finely tuned legal sports car that will allow car industry readers and lawyers alike to take the steepest turns and never spin out if they just learn the course and follow the suggestions in CARLAW III Reloaded. Read and start your engines!"
Lawrence Young
Partner, HughesWattersAskanase, Houston, Texas and CARLAW Editor for Texas